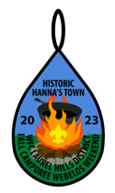 When: Scout Camporee – Friday, September 22, 2023, to Sunday, September 24, 2023
When: Webelos/AOL Weekend – Saturday 23, 2023 to Sunday, September 24, 2023
Where: Historic Hanna's Town – 809 Forbes Trail Rd, Greensburg, PA 15601
Registration Deadline: Thursday, September 14, 2023, at 5 pm.
Why you should attend: The Scout Camporee and Webelos Weekend is specifically designed to introduce the Scout Troops and Scouting program within Laurel Hills District.
Webelos/AOL and their parents/caregivers will meet Scouts and Scoutmasters within Laurel Hills District and engage in American Revolutionary themed programming with the Scouts. Webelos Weekend is a very rewarding and exciting time for Webelos/Arrows of Light as they complete their journey in Cubs and plan for their bridge into Scouts.
Registration required: $25 per Scout, $25 per Webelos/AOL and per parent/guardian, and per cub leader.  Additional information can be found below, or by emailing Michael Hanawalt, Laurel Hills District Webelos Transition Coordinator, at jonellehanawalt@gmail.com
Scout BSA Camporee
Friday, September 22, 2023, to Sunday, September 24, 2023
Programming starts at 7 pm on Friday

Weekend overnight camping to Sunday

Saturday lunch and Sunday morning meals provided

Registration required: $25 per Scout
Additional information for Troops:
Campsite assignment will be based on order of completed registration. Troops will need to bring fire circles as there are no established fire circles. Grounds will need to be restored following the campout. Water is available onsite. Trash will need to be removed by Troops. Troops will purchase and prepare all meals except Saturday lunch and Sunday Breakfast. Webelos/AOL will join Troops for Saturday Dinner at Troop Campsites. Troops should prepare to share their Troop meals with these participants. Class A Shirts are required.
Webelos/AOL Weekend
Saturday, September 23, 2023 to Sunday, September 24, 2023
Programming starts at 10:30 am on Saturday

This event can be attended as a day event on Saturday, or as a weekend event Saturday to Sunday

Optional overnight camping Saturday to Sunday

Meals and snacks provided

Registration required. $25 per participant.

A responsible adult needs to be present for each Webelos/AOL
Additional information for Webelos/AOL:
All meals will be provided. Participants can select a Troop of interest in which to join for Saturday dinner within a Troop's campsite. Webelos/AOL may elect to camp overnight at the event Saturday to Sunday. Please bring all items needed to camp overnight, including, tent, sleeping bag, bed pad, extra blankets, pillow, tarp, sleeping clothes, hygiene items, change of clothing, etc. Also, Webelos/AOL should be dressed in Class A Shirts and bring a camp chair and water bottle. Bring a sweatshirt, sunscreen, bug spray, rain jacket, hat, and extra warm clothing (in a light backpack) as the weather this time a year can be colder, especially at night. Saturday programming is offered past sundown. Please wear sturdy shoes (It is outside with fields). A responsible adult needs to be present for each Webelos/AOL. No youth may attend this event without a responsible adult.
When registering, please go through the checkout process to the end in order to choose your payment options of Credit Card, Mail-in, or Pay at the Event.