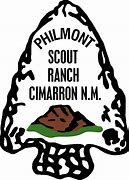 Philmont Scout Ranch
Westmoreland Fayette Council
Boy Scouts of America
July 9th, 2025 – July 21st, 2025
 Philmont Scout Ranch, the Boy Scouts of America's premier High Adventure™ base, challenges Scouts and Venturers with more than 214 square miles of rugged northern New Mexico wilderness. Backpacking treks, horseback cavalcades, and training and service programs offer young people many ways to experience this legendary country.
12-Day Treks
As the traditional backpacking trek at Philmont, 12-day treks give crews the opportunity to hike for 10 days in the backcountry, with an arrival/departure day in Base Camp on each end of the journey. Crews will be welcomed and accompanied by a Philmont Ranger for their first 3 days and will participate in program activities throughout their trek. 12-day crews cover 50-120 miles over the course of their trek, and also complete the 3 hours of conservation work necessary to earn the Philmont Arrowhead Patch.
Philmont participants must be 14 years of age OR be at least 13 years of age and have completed the 8th Grade prior to participation. Participants 18 through 20 years of age may be counted as youth or adult crew members. Crews are from 8 to 12 participants, with a limit of 4 adults.
2 registered adult advisors must be at least 21 years of age. There must be a registered female adult leader in any crew serving females. If we can meet the leadership requirements, we will send a co-ed crew.
Payment Schedule
The 12-Day Reservation fee is $1,675.00/person with payment schedule as follows:
Deposit of $150.00/person due 12/1/2023

Advance of $762.50/person due 10/1/2024

Balance of $762.50/person due 3/1/2025
(These are only the Philmont fees. Additionally, there will be other expenses. We will work out a budget as a crew at our first meeting.)
https://scoutingevent.com/512-Philmont2025
Questions? Contact Hugh Hubble (Hugh.Hubble@scouting.org) or (724)837-1630 x316.