District Executive:  Paul Rock – Paul.Rock@Scouting.org
District Commissioner:  Jim Koehn – Koehn.jim@gmail.com
District Chair: Emerson Long
DISTRICT COMMITTEE MEETINGS
Second Thursday of the Month! (New Day)
(Unless it is a Holiday)
Lutheran Church of Our Savior
(1570 Clay Pike Irwin, PA)
DISTRICT ROUNDTABLES
Second Wednesday of the Month!
(Unless it is a Holiday)
Brush Creek Church
(177 Brush Creek Rd. Irwin, PA)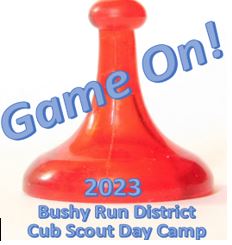 DATES: June 10th – 12th, 2023
THEME: "GAME ON"
LOCATION: Norwin Elks
Cost: $50.00 (If paid in full by May 10th and will receive a T-Shirt).
$55.00 (May 11th to May 26th)
$60.00 (May 27th to June 2nd).
$65.00 Walk ins Day of Camp
Join us for "GAME ON!"
Activities based on characters and action from board games, video games, sports, …
Along with BB Guns, Archery, and our Trading Post will be open daily!
For More Information, Please Contact Karen Lazar, Day Camp Director at
wfc.br.daycamp@gmail.com or 724-374-8848
or Paul Rock at paul.rock@scouting.org