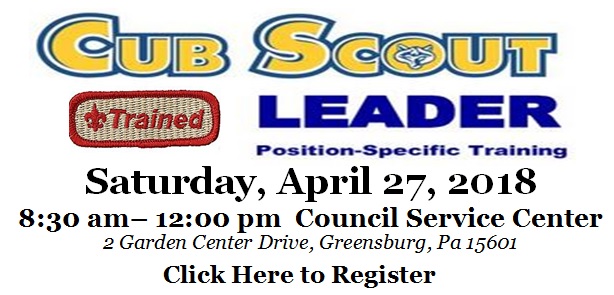 More Information Here





More information here


Basic Adult Leader Outdoor Orientation
May 10-11, 2019 – 7:00 p.m. Friday to 9:00 p.m. Saturday.
Camp Buck Run
$35.00 Includes handouts, all meals and supplies
This training is required for any adult who is in charge of planning a pack or
Webelos Den campout, and it is required for at least one adult per pack to complete
BALOO training in order to plan campouts for Cub Scouts
National Youth Leadership Training (NYLT)
August 4 -9, 2019 – Camp Buck Run
Requirements for Registration:
Registered with BSA
13 years of age
Achieved at least 1st Class Rank (except Venturers);
Have Scoutmaster Recommendation
Live by Scout Oath & Law
For 2019 only, an exception will be granted for girls registered in Scouts BSA to attend NYLT without first achieving the First-Class rank; they must still meet age requirements
Cost is $215 per participant if paid by July 12, 2019. After July 15th the fee will increase to $225.
Please contact Michael Conroy with any questions, comments, or concerns at: conroyma@jay.washjeff.edu or 724-757-1186